Newest Reviews:
New Movies -
Abraham Lincoln: Vampire Hunter
Old Movies -
Touki Bouki: The Journey of the Hyena
The Strange Affair of Uncle Harry
Archives -
Recap: 2000, 2001, 2002, 2003, 2004 , 2005, 2006, 2007 , 2008 , 2009 , 2010 , 2011 , 2012
Osaka Elegy (Kenji Mizoguchi, 1936)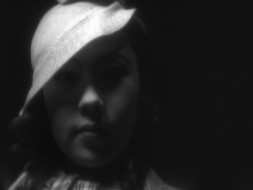 Life is never easy for the women in Kenji Mizoguchi's films, and in his punishing Osaka Elegy his worldview remains true to form. Chronicling the steady downward spiral of young Japanese woman Ayako (played by frequent collaborator Isuzu Yamada), this melodrama creates a convincing portrait of a society that does its best to marginalize the women that keep it afloat. Here, men are ineffective and uncaring at best and are more frequently actively working to sabotage the women in their lives. In Osaka Elegy, Ayako, a young telephone operator, quits her job in a bid to save her embezzling father from prison and ends up as a kept woman. Convinced that she can segue back into her family life after that dalliance, she sets herself, and the movie's audience, up for a rude awakening. It's a slim plot, conveyed with economy, but it makes for powerful stuff.
Yamada's performance is certainly one of the film's prime strengths. She equally convinces as an idealistic young girl, a servile mistress, and a dangerous maneater. All the while, she infuses her characterization with a level of self-righteousness that resists classification of her as a mere victim. She's the architect of her martyrdom, to be sure, but the judgmental reactions that she faces from all those she loves don't make her burden any easier. In what is likely the film's key scene, however, Ayako finds a forgiving soul in the woman she's cuckolded. The latent subtext here seems to be that only fellow women can understand another woman's burden.
Of course, however, despite the fact that Mizoguchi was a male director, he possessed unmatched empathy for his female characters. Ayako is one of his prototypical heroines, and her plight would only be repeated time and again, in various social and temporal contexts, throughout Mizoguchi's work. In his portrait of Ayoko, however, we get to see this great director's mission statement in one of its most approachable and powerful incarnations. By the end of Osaka Elegy, Ayoko's situation warrants nothing less than a universal call for empathy. In the startling final sequence, Ayoko, rejected by her family, heads out into the streets, and charges toward the camera, quite possibly ready to become the incurable delinquent everyone has made her out to be.
82
Jeremy Heilman
02.05.09